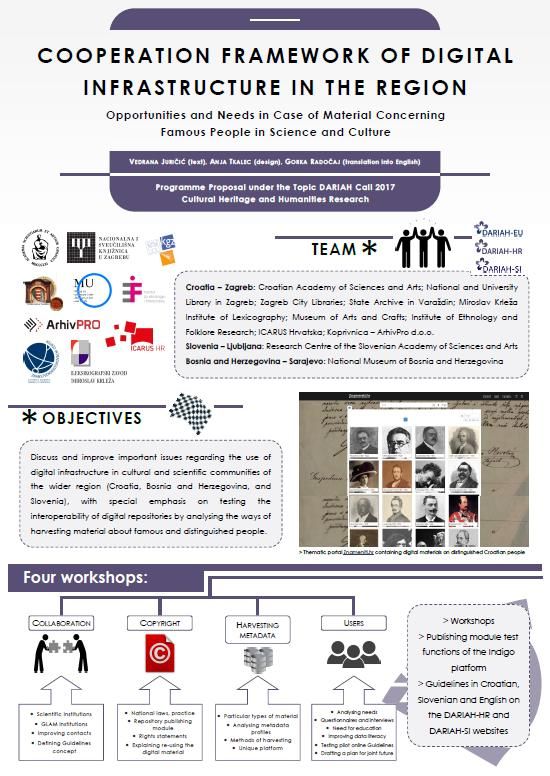 The fourth workshop for the project Cooperation Framework of Digital Infrastructure in the Region − Opportunities and Needs in the Case of Material Concerning Famous People in Science and Culture was held on the 2nd and 3rd of July 2018 at the Library of the Croatian Academy of Science and Arts.
This project won the DARIAH-EU Call 2017: Cultural Heritage and Humanities Research. Its aim is to discuss important the issues about using digital infrastructure in cultural and scientific communities of the wider region (Croatia, Bosnia Herzegovina and Slovenia), with the special emphasis on data exchange and copyrights, as well as to create the guidelines on the interoperability of digital infrastructures in the region.
Partners in the project include: Croatian Academy of Sciences and Arts, National and University Library, Zagreb City Libraries, State Archive in Varaždin, Miroslav Krleža Institute of Lexicography, Museum of Arts and Crafts, Institute of Ethnology and Folklore Research, ICARUS HR, ArhivPro d.o.o., Slovenian Academy of Sciences and Arts, National Museum of Bosnia and Herzegovina.
The third workshop for the project Cooperation Framework of Digital Infrastructure in the Region − Opportunities and Needs in the Case of Material Concerning Famous People in Science and Culture (Library of the Croatian Academy of Science and Arts, 10-11 April 2018)
The second workshop for the project Cooperation Framework of Digital Infrastructure in the Region − Opportunities and Needs in the Case of Material Concerning Famous People in Science and Culture (Library of the Croatian Academy of Science and Arts, 12-14 February 2018)
The first workshop for the project Cooperation Framework of Digital Infrastructure in the Region − Opportunities and Needs in the Case of Material Concerning Famous People in Science and Culture (Institute for the History of Croatian Literature, Theatre and Music of the Croatian Academy of Science and Arts, 28-29 November 2017)