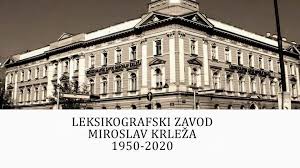 The Institute of Lexicography was founded on 5 October 1950 as a scientific institution devoted to encyclopedistics and lexicography. The founder of the Institute was the Croatian writer, lexicographer, and erudite Miroslav Krleža, who brought together professionals from all scholarly fields and initiated encylopedic-lexicographical activity in modern Croatian society. The Institute was founded in Zagreb, which already had a strong lexicographical tradition, including experience with the Croatian Encyclopedia (1941–45), whose editor-in-chief, Mate Ujević, became Krleža's assistant.
The Institute was first named the Lexicographical Institute of the Federal People's Republic of Yugoslavia, and its goal was to create, collect, and process texts for encyclopedic, bibliographical, and other works, and to publish the results of its work and cooperate with other relevant institutions in Yugoslavia and abroad. Its name was changed to the Yugoslav Institute of Lexicography in 1962 and, on 15 June 1972, it was legally tied to the Croatian Parliament and thus recognised as a part of Croatia's cultural heritage. In 1984, the Institute was renamed the Yugoslav Institute of Lexicography Miroslav Krleža, while its current organization and name were established in a Regulation issued by the Croatian government on 13 February 1991 and a Law passed by the Croatian Parliament on 29 May 2003.
The Institute's encyclopedias, lexicons, dictionaries, atlases, and bibliographies are important not only as a traditionally reliable system of general knowledge available today, but also as a way of accessing and testing the limits and possibilities of language and knowledge, while maintaining responsibility for the culture and civilisation we share. In the surroundings of contemporary information technologies and the increasing amount of information, the Institute of Lexicography, as the only institution in Croatia that systematically produces lexicographical and encyclopedic content in the broadest span of scientific disciplines, offers a scientifically verified and systematised groundwork for finding one's way in the world of global informing, raising the level of creation and use of public knowledge in Croatia.